Being a parent is simultaneously the most challenging and rewarding role of a lifetime. I'm proud to have a husband like Fred Miller, an active parent and partner who leads by example as a good role model and caregiver as we raise our two daughters to be strong, independent women.
Fred and I strive to make this world a place where our girls will have the freedom to make their own choices, set their own goals and not be limited by discrimination or bias.
Throughout his career, Fred has worked for equality and opportunity for all.
·         As a State Representative, Fred chaired the House Labor Committee and worked with his female colleagues to introduce, hold hearings, and pass Equal Pay legislation.
·         As Macomb County Commissioner, Fred authored and passed Macomb's Non-Discrimination policy to protect workers from being fired no matter who they love.
·         As part of the labor movement, Fred has stood shoulder-to-shoulder with low wage workers in the 'Fight for $15' and has picketed and stood up for higher wages and better working conditions for all workers.
Fred fights for equality and social justice because he believes it in his heart and lives it both at work and at home. It is personal for him.
This Father's Day, I am grateful that my two daughters have a man in their life who honors, supports, and encourages them and I ask that you support Fred for Macomb County Clerk so that he can work on behalf of all residents and continue his life's work to make Macomb County a place where there is equality and opportunity for all.
Sincerely,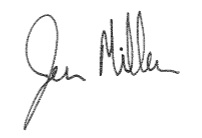 Jen Miller